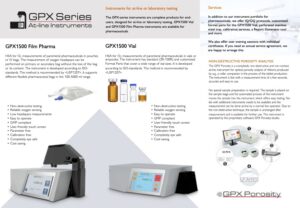 We represent the Swedish company Gasporox: https://gasporox.se
Gasporox has invented the unique technology of non-intrusive and non-destructive headspace oxygen gas inspection for vials, IV bags, etc. The two Instruments GPX1500 Vial and GPX1500 Film Pharma are on the market since more than a year.
What makes our devices unique:
– Non-destructive and non-invasive headspace Oxygen measurement
– Super-fast: Result is provide within 2 seconds
– GPX1500 Vial: Several types of containers are supported: Vials and Ampoules of different size
– GPX1500 Film Pharma: Primary and secondary bags of all kind of size can be tested w/out the loss of the bag
– Very easy to use: 5 minutes instruction is enough for the routine use / user friendly touch screen
– Parameter free: All format settings are factory preset
– Very fast startup: After one minute the instrument is ready for measuring
– Calibration free
– Calibration certificates for different formats are provided. Yearly recalibration only for regulatory purpose
Gasporox AB is a Swedish company specialized in laser-based headspace analysis for quality inspection of packages. Gasporox offers world leading solutions for your parenteral inspection. The company has developed and commercialized the tunable diode laser absorption spectroscopy (TDLAS) technology, offering an effective and fast gas measurement for quality assurance of packages in
pharmaceutical, food and beverage industries.